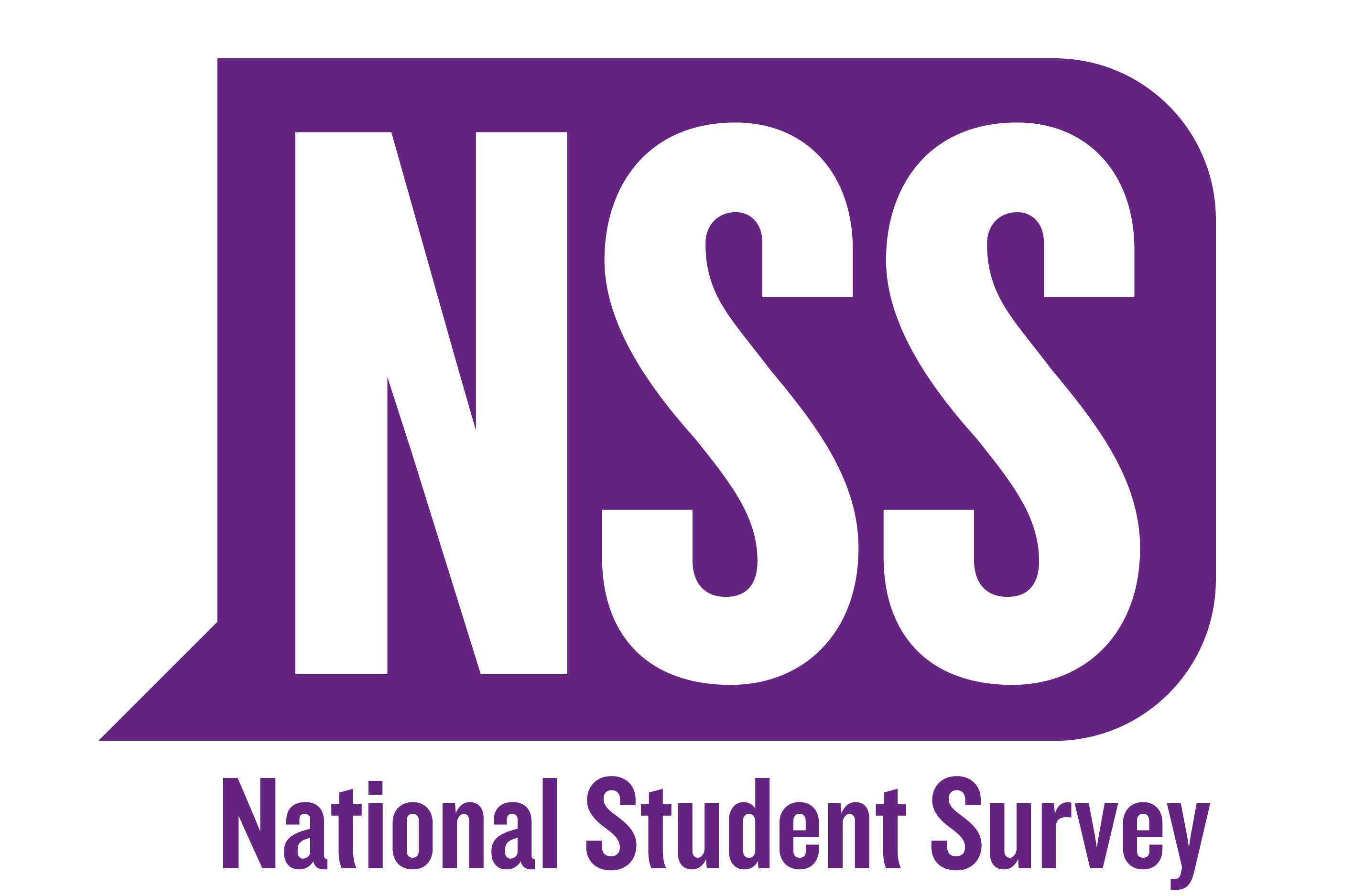 The National Student Survey (NSS) 2022 will open in January. The survey mostly covers final year undergraduates.
The National Student Survey (NSS) is a nationally recognised annual survey of final year undergraduates in the UK. Queen Mary has been participating in the NSS since 2005.
The survey provides students with an opportunity to give some honest feedback on your whole experience at Queen Mary - feedback that we will use to make improvements for students of the future. As it's a national survey, it gives us, the public, and future students valuable insight into how we compare with other universities. The NSS also provides important information for prospective students to inform their choices about where they want to study. Queen Mary Students' Union is fully supportive of the NSS.
Alongside your elected representatives, feedback from Student-Staff Liaison Committees has been critical to making positive changes to your learning experience. Every year, we also make improvements based on the feedback we get from the NSS – see below for some examples.
Why should you take part?
The survey takes about 10 minutes to complete online. We encourage you to complete the survey as soon as possible, because:
The NSS provides you with the opportunity to provide honest, anonymous feedback on your whole learning experience.
Your opinions do matter and will help improve the experience of future students at Queen Mary,

just as you have benefitted from previous students' feedback.

The NSS is run by an independent market research company and all answers are anonymous.
The NSS is an opportunity to make your voice heard on a national platform.
Anonymised results are made publicly available through Discover Uni to help prospective students make informed decisions of where and what to study.
The Students' Union is supportive of the NSS.
As you know, we work hard at Queen Mary to ensure your voice is heard with respect to supporting your learning journey. And, importantly, we seek to address any issues you raise that impact on your day-to-day progress. This has been more important than ever following the unprecedented challenges we have all been facing. Please engage with the
NSS
- we really value your feedback, as it helps us to benchmark across the UK and make any further positive changes at Queen Mary.
You may opt out of the survey at any point.
What happens with the results?
The NSS results are made publicly available to help prospective students, their families and advisors make informed decisions of where and what to study. Universities and students' unions also use the data to compare best practice. We identify areas of strengths and weaknesses to make changes and improve the learning experience for future generations who come to Queen Mary to study.
Data from previous surveys are available on Discover Uni.
You can also view the results of the NSS at Queen Mary on our NSS results page.
Changes we've already made in response to student feedback
As a result of listening to what former students had to say, we've made many positive changes, such as the following examples:
IT Services listened
We added new features and enhanced existing functionality on the Queen Mary mobile app to help users to manage their time, increase productivity, and get more involved with the Queen Mary community.
We introduced Apps Anywhere to ensure the specialised software is available virtually from anywhere, anytime.
IT Services migrated to the cloud and upgraded QMplus platform to improve reliability, speed and access to the key teaching and learning activities.
To provide more lecture recordings, we expanded the QReview service to 10 more rooms and smaller seminar rooms bringing total to 113 QReview-enabled rooms. We upgraded older devices, 35 end-of-life devices which are not supported. They were replaced with software based solution which can be supported remotely more easily to improve the quality of QReview recordings. In addition, QReview recordings are now automatically captioned. We are also piloting cameras that can track lecturer's movement during lecture capture.
We are expanding self-service laptop loan service available at Mile End Library.
The timetabling platform was upgraded to improve the speed of processing information.
Student Services listened
Our Counselling team ensured that they completed the necessary training to offer counselling appointments online.
In recognition of the relative lack of diversity in our student support staff and the issues brought to the fore by the Black Lives Matter movement we have introduced BAME coaching for our students through our Advice and Counselling Service.
To address the specific problems faced by PhD students with disabilities, Library Services and the Disability and Dyslexia Service have introduced a library postal service for students unable to access research materials.;
Careers & Enterprise listened
We made our event recordings available on demand online so that you have access to previous careers events and workshops.
You can now book careers application advice and enterprise appointments online via the Careers & Enterprise website.
Careers & Enterprise have continued providing campus appointments where possible to those who need them.
You can now access all Careers & Enterprise appointments using your Queen Mary MS Teams account because you said it was difficult to access appointments via Skype.
We created the Careers Booth - a private bookable room for students – so that you have a quiet and private space for interviews and career-related conversations.
We expanded our QMentoring programme to suit aspiring and established entrepreneurs and to provide access to 1-2-1 enterprise mentoring.