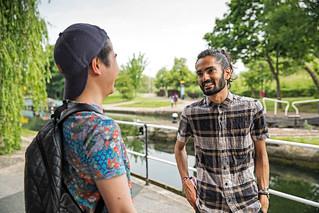 Starting university is an exciting time, but it can also come with many challenges.
The Queen Mary Buddy Scheme is here to help! The scheme matches small groups of new, first-year students from the same academic school (mentees), with experienced students who are typically in their second or third years at Queen Mary (mentors). The result? A sense of connection and community of the kind we believe should be at the heart of everyone's university experience.
At a time when COVID-19 is placing restrictions on all our lives, it is easy to feel isolated, this is where the Buddy Scheme can play a particularly important role. From the beginning of your student journey, it will help you settle into university life, socialise, meet new people from all walks of life beyond those on your course or living in your flat, and have some fun! Mentors, who are trained but work voluntarily, will give invaluable, informal support by sharing information and their own experiences, and offering tips.
Communicating with my mentees about their struggles and achievements has been a great experience for me, it has offered me both the opportunity to help others and contribute in a positive way.

— Buddy Scheme Mentor & Volunteer 2020/21