Student profile: Hannah Idil
Hannah is a third-year English Student at Queen Mary. Hannah currently serves as Creative Director for the Black Girl Book Club society and is a leading student representative for this year's Black History Month events, led by Queen Mary Students' Union. Hannah speaks to us about what it means to her to be a Black woman and the importance of Black History Month.
Published:
Tell us a little bit about yourself?
I'm a third year English student from West London. Most things I like to do have to involve some form of creative expression, whether it's writing or making videos, or doing yoga and planning cycle routes.
What does being a Black woman mean to you?
It's great. It's being the source of love and light for so many people. It's being unapologetic in the face of adversity. But it's also working triple overtime to learn how to put myself first in a world that believes I exist to serve it.
Why do we celebrate Black History Month (BHM)?
Black people in Britain are a historically overlooked, oppressed and underappreciated demographic. So, BHM is so much more than just another month. It's a time to celebrate all the beauty and brilliance that surrounds Blackness and everything Black people have put into the world – a time to express gratitude and spread love, to uplift and remember. Black history is world history and dedicating simply one month out every year to it is just one step in the right direction.
Is there a specific Black person from history or today who inspires you?
Toni Morrison. She sadly passed away this summer and her death affected me deeply. She was a woman who brought so much light into the world through her words and endless wisdom. Her work is one of a kind and massively shaped the woman I am today. I think everyone should read, or at least listen to, Toni once in their life.
What is Black Girl Book Club (BGBC)?
BGBC is a relatively new society – this is our first full academic year in existence – and we meet up every month to read books written by Black women, chosen by our members. I made the society to make up for a lack of literature by Black women embraced in academia. Also, there aren't many places that offer a safe space for Black girls on campus so it doubles as that.
Can you recommend us a book to read?
I would recommend Queenie by Candice Carty-Williams. I've also made a reading list for both the library and the SU to promote and display for BHM which you can access on the Students' Union website at the very bottom of the page.
Tell us a little about the events taking place over Black History Month?
BHM at Queen Mary is packed to the brim with exciting events this year. BGBC are kicking it off on Tuesday with a Meet and Greet and other societies like ACS, Barts ACS, Pan-African Society, Somali Society and Decolonise QM all have incredible events planned out. Be sure to check the Students' Union or the BHM leaflets around campus for a full list.
Which event are you most excited about?
I'm definitely most excited for the Black-Owned Business Fair. What a concept! It's on Wednesday 2 October from 12-3pm at Library Square.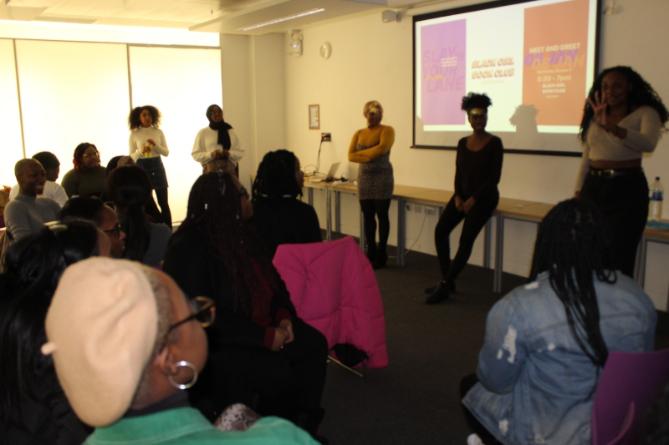 To get involved in the events and activities over this year's Black History Month, see what's on offer on the Students' Union website. To join Black Girl Book Club (pictured), get in touch with them here.
Download BGBC - Hive Mind Anthology [PDF 488KB]