Trending recipes to try during lockdown
Staying in is a great opportunity to unleash your inner foodie, so here are some food and drink recipes that are currently taking the world by storm.
Published:
Dalgona Coffee/Whipped Coffee
It's the South Korean coffee craze that seems to have gained Insta-fame.
All you need are three ingredients:
2 tbsp instant coffee granules
2 tbsp granulated sugar
2 tbsp water (preferably hot)
Using an electric whisk (or, the slightly more laborious option, a manual whisk), whip these up until your mixture goes from dark brown and runny to a beige-coloured, velvety consistency.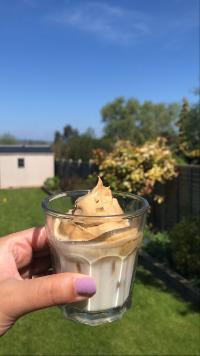 Here's one we made earlier:
Note: For those who aren't caffeine lovers, we also tried a version where the coffee was substituted for hot chocolate. The results were not good.
Try your hand at some artisan bread
In some places, flour and yeast are running out due to an unprecedented interest in bread-making while people are staying at home.
Especially popular is sourdough bread, which requires a few days of waiting before baking. Check out this sourdough masterclass.
Recreate restaurant favourites
Some of the nation's favourites are revealing the recipes for their most famous dishes for you to make at home.
You can learn how to make Pizza Express doughballs, Greggs pastries and McDonald's breakfasts, to name a few.