Tips for celebrating the Lunar New Year from home
Happy Lunar New Year! Based on the lunar and solar calendars, the date of the Lunar New Year varies each year and each year is represented by one of the 12 animals of the Chinese zodiac. This Friday, 12 February, marks the start of the Year of the Ox.
Published:
Traditionally, Lunar New Year would be a time where relatives would travel to see family. In China, this time normally sees the largest migration number of people in the world as people head home to join family and friends for a big celebration together, however, we will all be staying at home for the celebrations. We've put together some tips to help you celebrate from home this year.
Decorate your home
Red is the colour traditionally associated with the Lunar New Year celebrations. One new year custom is to hang red paper decorations in windows, doors and around the house. This is believed to come from the ancient legend involving a beast called the Nian who was terrified of the colour red.
Here's a few ideas of decorations you could make:
You could also decorate your Zoom call with a special Lunar New Year background.
Setting the table
Here's some ideas for your Lunar New Year table.
Citrus fruit: tangerines and oranges are displayed and exchanged between family and friends. They symbolize wealth and good luck.
Display an orchid: orchids are a popular Lunar New Year flower because they symbolize abundance, luxury and refinement.
Try your hand at making dumplings
Dumplings are a must-eat food on New Year's Eve. They symbolise longevity and wealth because their shape resembles gold shoe-shaped ingots which were an early form of Chinese currency.
Tune into a virtual celebration
On Lunar New Year's Eve this Friday, 12 February, you could watch the very popular Spring Festival Gala as it is streamed on YouTube from 8pm-12 midnight (Beijing time) or 12 noon-4pm in London. The gala features music, comedy, dancing, and drama performances.
Join the London Chinatown Chinese Association's virtual celebration on YouTube this Sunday, 14 February. You'll get to see a selection from past year's celebrations and see emerging Chinese artists.
Giving gifts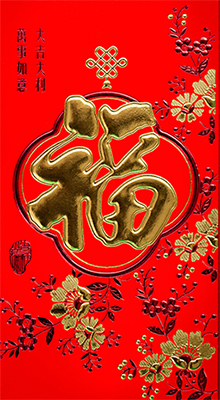 Lunar New Year is also a time of gift giving. Red envelopes are filled with money and given to children or unmarried adults. This year, you could send a digital e-card and consider an e-gift card or send a care package.
Complete a Year of the Ox virtual exercise challenge
After all the good food and celebrating, you might want to do some exercise! You can find a number of virtual exercise challenges including this one where you can earn a Year of the Ox medal!
To all our community celebrating, we wish you a very Happy Lunar New Year! 新年快乐 恭喜发财