Restricted access at Mile End campus as work commences on Mathematical Sciences Building
Pedestrian access to Godward Square (sometimes known as Drapers Square) from Mile End Road will be closed from week beginning Monday 8 January until completion of the refurbishment of the Mathematical Sciences Building in April 2019.
Published: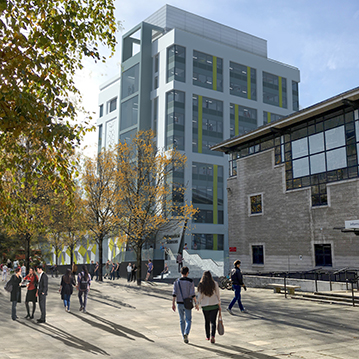 There will still be access to the Informatics Teaching Laboratories, Computer Science Building, Qmotion gym, Drapers' Bar and Kitchen, and the Union Shop (formerly Infusion) via Bancroft Road. Signage will also be put up around the site showing alternative routes to help you get around this area of Mile End campus.
The decision was made to close access due to safety considerations. Estates and Facilities are doing everything possible to minimise any inconvenience while also ensuring the safety of all students, staff and visitors. 24-hour CCTV cameras will also be in operation on the site for your safety and security.
As part of this work, cycling racks and shelters currently located in Godward Square will be relocated to another area on campus yet to be confirmed. Bicycles that were left in these racks over the holidays have been safely stored. Please contact Security on 0207 882 5555 for more details.
About the Mathematical Sciences transformation project
Estates and Facilities are working with GRAHAM Construction to transform the existing Mathematical Sciences Building. The proposal sees a refurbishment of the internal spaces, enhanced thermal performance, infrastructure upgrades, new facades treatment and a single storey extension to form a new social space for students. Enabling works and work to strip out asbestos were completed in December 2017.
Please contact the Estates Helpdesk with any questions regarding the project: estates-helpdesk@qmul.ac.uk or call x2580.