Queen Mary mobile app spring refresh
April is here, and we've spruced up the University's mobile app to give it a fresh new look in time for spring.
Published: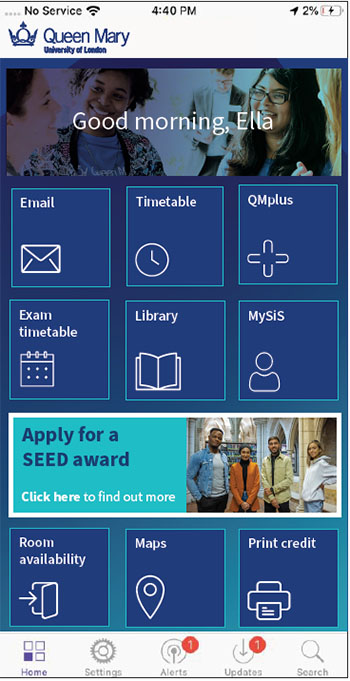 Informed by feedback from our student and staff community, the Queen Mary mobile app has been refreshed, and some of its existing features have been enhanced for a more personalised user experience. The new look app will launch the week beginning Monday 26 April.
As well as a full redesign of how the app looks, the authentication system running in the background has been updated. This backend update makes it possible to deliver more exciting features for future releases.
New and enhanced functions included in this update:
Email: you will be alerted to unread messages on the homescreen without needing to click on the tile.
Personalised greetings: the app can now welcome you with a personal greeting.
Events: easy access to browse University events, and you can now create a personalised list of favourite events to attend.
How to access the new profile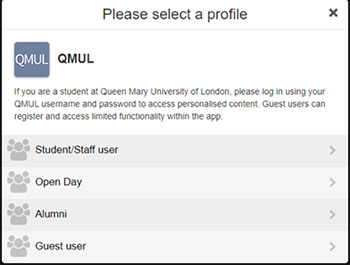 In the week beginning Monday 26 April, the Queen Mary mobile app will notify existing users to log out and log in again. When you log in, select the new Student and Staff profile named Student/Staff user.
Your login name must be in the format ab12345@qmul.ac.uk.
The older version of the app will no longer be available from Monday 26 April, so make sure you've logged in to the new version on that day. If you haven't, you'll be asked to log out and back in again before you can use the app.
To log out of the app, please select the 'settings' option and ensure you click on the key icon in the top right corner.
If you have any problems accessing the new mobile app profile, please contact the IT Service Desk at servicedesk@qmul.ac.uk or via the 'IT Live Chat' button on the IT Services homepage.