LGBT History Month at Queen Mary
February marks LGBT History Month in the UK. At Queen Mary, we are proud to embrace diversity and the wide range of perspectives and experiences it brings with it.
Published:
Our LGBTQ+ staff and students are an important part of the diversity that makes Queen Mary a special place to work, study and grow.
This February, we join LGBT History Month in celebrating our LGBTQ+ staff and students, and the contributions LGBTQ+ people make to our society.
The President and Principal, Colin Bailey, and the Executive Officers of Queen Mary Students' Union marked the start of the month by releasing a statement in support of LGBT History Month, a part of which can be read below.
For the President and Principal and the Executive Officers' full statement, see the article on MyQMUL.
We are extremely proud that we attract staff and students from all backgrounds to work and study at Queen Mary, including from all LGBTQ+ identities. The diversity of our staff and student community makes us stronger, and makes us Queen Mary.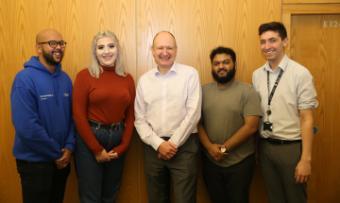 To be truly inclusive, and to provide an environment where all staff and students are able to be themselves and reach their potential, requires sustained, hard work. We look forward to continuing the joint work between the University and Students' Union to pursue the shared goal of being the most inclusive research-intensive university.
Visibility
Visibility is important for the LGBTQ+ community as it empowers others within the community to stand up as a role model. During LGBT History Month, there are a number of activities aimed at raising the visibility of the LGBTQ+ community at Queen Mary.
LGBT flag raising
On Monday 4 February, the LGBT flag was raised over Queen Mary's Mile End campus. The President and Principal of the University, Colin Bailey, Vice President Welfare of Queen Mary Students' Union, Ella Harvey, and a group of staff and students from the University were in attandance. This flag will be raised throughout the month of February to celebrate Queen Mary's LGBTQ+ staff and students.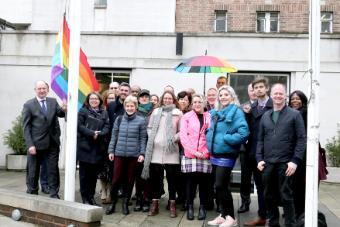 Rainbow lanyards
Rainbow lanyards have been distributed to LGBTQ+ staff and allies who wish to show their support for Queen Mary's LGBTQ+ community.
LGBT desk flags
Miniature LGBT desk flags have been distributed to school receptions around the University, to raise awareness of LGBT History Month and to raise visibility of our support and appreciation for Queen Mary's LGBTQ+ community.
Digital displays
The University will be displaying digital posters throughout February in support of LGBT History Month and Queen Mary's LGBTQ+ community around Mile End, Whitechapel, and Charterhouse Square campuses.
Events
Whitechapel campus
Barts and the London Students' Association has organised a number of activities around Whitechapel campus in celebration of LGBT History Month.
Tuesday 5 February, 6-8pm, Perrin Lecture Theatre: "Understanding Gender Dysphoria", led by Dr James Barrett, lead clinician at the Gender Identity Clinic and President of the British Association of Gender Identity Specialists.
Wednesday 6 February, 4.30-7.30pm, BLSA Building: Positive East will be holding STI Testing and handing out free condoms and lube.
Wednesday 6 and Friday 8 February, 7-10pm, Laird Hall: The Barts and the London Students' Association will be hosting "Drag Extravaganza," which won Event of the Year 2017/18 and raises money for RAG. Tickets £5.
Friday 8 February, 6.30-9pm, Griff Inn: The Griff Inn will be hosting the "LGBTQuiz," a pub quiz with a focus on LGBT history, pop culture, and music, with great prizes and chance to win cash!
Mile End campus
Queen Mary Students' Union is also holding a series of events and activities on Mile End campus throughout February for students to highlight the University's LGBTQ+ community.
Friday 8 February, 6.30-9pm, Drapers Lounge: Paris is Burning screening - This

documentary explores race, class, gender, and sexuality through the 1980's ball culture that became a safe haven for queer people of colour and trans communities. The screening will be accompanied by a discussion on the controversial nature of the film and its significance today.

Monday 11 February, 6-8pm, David Sizer Lecture Theatre: Question Time - LGBTQ+ students from different political parties will be debating some of today's most pressing issues for the wider community and beyond.

Wednesday 13 February, 6-8pm, Blomeley Room 2: Madchen in Uniform Screening - This 1931 German film follows the blossoming romance between a teacher and student at a boarding school, and the scandal that follows. This film will be accompanied by a discussion of the often negative stereotypes of queer women in film.

Wednesday 20 February, 3-5pm, Blomeley Room 1: LGBTea and Coffee - A spin on the usual coffee social, this month the LGBT+ Society will be chatting about topics that often affect the community such as mental health and body image.

Monday 25 February, 6-8.30pm, Senior Common Room, Queens' Building: LGBT+ Networking Event - an opportunity for current LGBT+ students to network with LGBT+ alumni and staff to understand what it's like being LGBT+ in the world of work, and the kinds of career paths they could take.

Tuesday 26 February, 6-8pm, David Sizer Lecture Theatre: Diversity Panel - Queen Mary's LGBT+ Society are hosting a panel, chaired by their BAME Rep, to discuss how race and identity affect their experiences in LGBT+ spaces.

Thursday 28 February, 9pm-2am, Drapers Lounge: Honey - Close off the month with a night filled with hits from the 70s to the 00s.
There will also be a stall in Library Square throughout the month with information, cake sales, pronoun badges, games, and more. This stall will be running from noon-3pm on Friday 8 February, Monday 11 February, Friday 15 February, and Monday 25 February.
LGBTea and Coffee, the LGBT+ Society's coffee social, will be held in Blomeley Room 1 from 3-5pm on Wednesday 20 February and from 5.15-7.15pm on Wednesday 27 February.
Resources
Many resources are available to staff and students who would like to learn more about LGBTQ+ community and its history throughout the year, however for LGBT History Month, the library has compiled an LGBT reading list of 101 titles which are available from the Queen Mary Library Collection. This is a collection of plays, poetry, fiction and non-fiction, all of which cover different angles of the LGBTQ+ experience and can be found in Queen Mary's libraries at Mile End and Whitechapel.
The Equality, Diversity and Inclusions team has interviewed some of our LGBTQ+ staff and students about their experiences. You can read these interviews on the University's HR pages.