Cybersecurity Awareness Month 2020
Did you know that October is Cybersecurity Awareness Month?
Queen Mary is committed to helping you keep safe online and we have two important initiatives we're introducing to this month: multi-factor authentication and mandatory cybersecurity training.
Published:
1. Multi-factor authentication – register now
You may already be using multi-factor authentication (MFA) when logging into services such as online banking. It's where a code is sent to your phone or email and you need to put it in to prove that you are the person who is logging in. Queen Mary is turning on the MFA service for all students throughout October. You will receive an email to your Queen Mary address, with the date when MFA will be switched on for you.
What do I need to do?
To make the move to the new MFA service easier, we encourage you to register ahead of time for the multi-factor authentication service and self-service password reset. Once multi-factor authentication has been turned on, you won't be able to log into any services such as email without it.
Visit our multi-factor authentication and self-service password reset pages for more information and instructions.
2. Complete your cybersecurity training
You'll need to complete two short courses: Cybersecurity and GDPR. Even if you think you're confident about spotting scams and data protection, these courses will help educate you to protect yourself and make sure you stay on the right side of the law. They are delivered by our trusted partner MetaCompliance.
These courses are mandatory and need to be completed by 14 November 2020. Your School will be monitoring your progress and will make contact with you if you don't complete them by the deadline.
What do I need to do?
You'll get two emails from noreply@qmul.ac.uk that look like similar to the example below, tomorrow, Wednesday 14 October. Click on the link in the email and complete each course.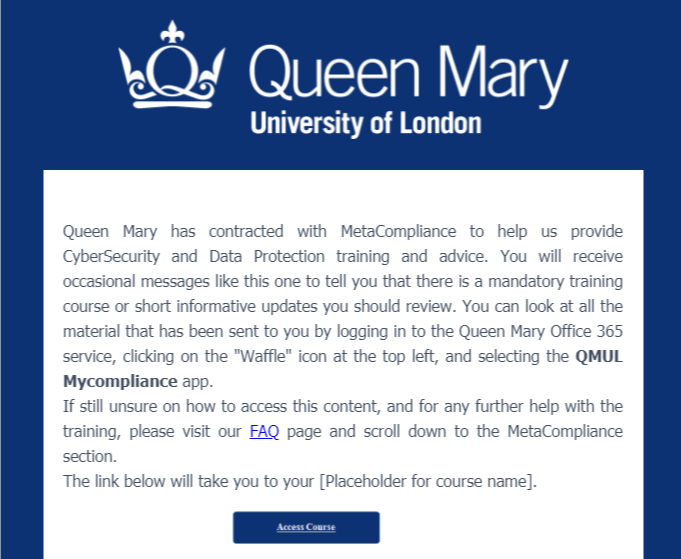 If you've lost your email or have any questions, check out our useful FAQs which explain what you need to do.
Will I get any a certificate/transcript for these courses?
You'll be able to download a certificate for each course which you can include on your LinkedIn profiles or e-Portfolio.
Let's keep ourselves and others safe this Cybersecurity Awareness Month!